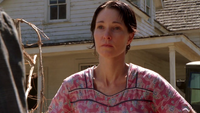 Biography
Abigail Whitman was the wife of Archibald Whitman and mother to Adam Whitman as well as adoptive mother to Don Draper.
When Archie was kicked in the face by a horse and died, she "took up" with a new man, Mack Johnson. Don's childhood was unhappy, and his stepmother never allowed him to forget that he was a "whore child". ("Long Weekend") ("The Hobo Code")
Ad blocker interference detected!
Wikia is a free-to-use site that makes money from advertising. We have a modified experience for viewers using ad blockers

Wikia is not accessible if you've made further modifications. Remove the custom ad blocker rule(s) and the page will load as expected.