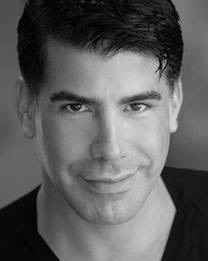 Biography
Bryan Batt (1 March 1963) is an American actor and stars in Mad Men as Salvatore Romano, a former art director for the Sterling Cooper Advertising Agency agency.
Primarily a theatre/theater actor, he has had a number of starring roles in movies and television as well. His performance in the musical adaptation of Saturday Night Fever earned him one of New York City's more unusual honors, a caricature at Sardi's.
Batt was born in New Orleans, Louisiana, the son of Gayle Batt, an amateur actress and dancer. His family founded and ran the Pontchartrain Beach amusement park. He attended and graduated from Isidore Newman School, a preparatory school in New Orleans, and Tulane University. Although Batt played a closeted character in Mad Men, the actor himself is openly gay.
Bryan Batt lives with his partner, Tom Cianfichi, an events planner. Batt and Cianfichi have been together more than eighteen years; they met while performing Evita in Akron, Ohio. Batt was playing Che, and Cianfichi was the understudy for Magaldi. Batt and Cianfichi own a home decor and furnishings store, Hazelnut, on Magazine Street in New Orleans. In 2010 Batt published a memoir about his mother entitled She Ain't Heavy, She's My Mother.
External Links
Ad blocker interference detected!
Wikia is a free-to-use site that makes money from advertising. We have a modified experience for viewers using ad blockers

Wikia is not accessible if you've made further modifications. Remove the custom ad blocker rule(s) and the page will load as expected.