Christmas Comes But Once a Year
Talk

0
544pages on
this wiki
"Christmas Comes But Once a Year" is the second episode of Season 4 of Mad Men and is the forty-first episode, overall.
Synopsis
SCDP throw an elaborate Christmas party beyond their means, due to a mistake made by Roger. Sally runs into an unexpected old friend. Don's loneliness reaches a fever pitch, when a one-night-stand compromises a work-relationship. Freddy Rumsen returns with an account in his pocket.
Detail
It's Christmas time. Henry and Betty Francis along with Sally, Bobby and baby Gene are out shopping for a Christmas tree. Sally runs into Glen Bishop. Glen's mom is now married so Glen is living with his new father in a trailer in the Christmas tree lot. He saw Sally's "new dad" and mentions that his mom "said that would happen." Bobby runs up, says hello, and asks if Glen is getting a tree. Glen says no and that he's working. Bobby tells Sally that they're leaving as soon as he has found Sally, which he has. Sally says goodbye and Glen says that maybe he'll call her.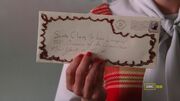 Don's secretary, Allison, delivers, then reads a letter from Sally after Don tells her to. In the letter, Sally writes of her and Bobby's wish list for Christmas. Sally writes of how she knows the truth about Santa Claus and agrees to keep up the "roos" (ruse) for Bobby. Sally states that she would want nothing more but for her father to be with her Christmas morning but acknowledges that he probably can't. Don looks sad, then sends Allison off with some money to buy the Christmas gifts for his children.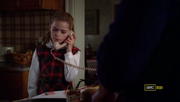 Freddy Rumsen visits Roger Sterling and offers the agency Pond's Cold Cream, worth $2 million, in return for a job. Freddy, clean and sober for sixteen months, alludes to being in a "fraternity" with the client. Freddy's only request is that Pete Campbell, (who got him fired from the old Sterling Cooper), does not handle the account.
Glen calls Sally. Carla picks up the phone. He lies that he's Sally's classmate, "Stanley", calling about homework, when asked who's calling. Glen tell Sally that the phone call is private and Sally moves into another room, away from Carla. He asks why she hasn't moved but Sally doesn't know and tell him that she hates living at home now because she's reminded of her father and keeps thinking he's still living with them.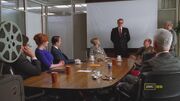 A consumer-research company pitches its services to Sterling Cooper Draper Pryce, and the company's female representative, Dr.Faye Miller, asks senior staffers to complete a very personal questionnaire that asks for family history. Don abruptly excuses himself from the presentation.
At his apartment, Don is awoken by the sound of a hammer pounding. His neighbor, Phoebe, a nurse, is hanging up decorations for a staff Christmas party that will be at her apartment. She invites Don. He thanks her for the invitation and tells her that he's late for work, to which she replies that he should thank her then for waking him.
At work, Peggy and Freddy Rumsen are working on the Pond's account when Roger comes back from a lunch with one Cal Rutledge from Pond's. Rumsen looks worried and phones Rutledge and asks to meet at a church. Rumsen is now an AA sponsor.
Roger accidentally invites the agency's biggest client, arrogant Lucky Strike heir Lee Garner, Jr. to the office Christmas party, which was originally planned on a shoestring budget. He informs Lane and asks for Joan to make the necessary arrangements to make the party up to par for Lee Garner Jr.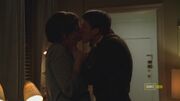 Peggy Olson has her own dilemma; a conflict with her boyfriend Mark Kearney, who is pressuring her to have sex before marriage. Mark ironically accuses Peggy of having traditional values and being "old-fashioned," when we know that Peggy has modern ideas about almost everything from career to sex.
As Don is coming home, his neighbor, Phoebe, is cleaning up after her party. She helps him into his apartment as he's a bit drunk. He falls onto the bed and asks her how she can stand working at the hospital while she takes off his shoes. She states that she loves how "everything happens there", with people coming and going into the world.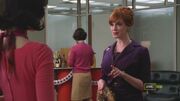 The staff of SCDP is hard at work prepping for the office Christmas party, with Joan directing everyone and making choices about food, wine and such.
Peggy and Freddy are still working on the Pond's account. They're having conflicting ideas about what way to go with the advertising. Peggy wants the ad to be about how it makes a woman feel but Freddy wants to have the ad say that it'll help you get married. Peggy is fed up and calls him old-fashioned. Freddy gets up to leave and Peggy apologizes but he tells her not to worry about it.
Glen tries to call Sally again, this time at night. No one seems to be at home to answer.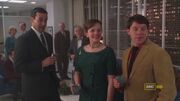 The SCDP Christmas party is in full swing. The Campbells, the Cranes, the Sterlings and Don Draper are gathered, talking about where they're going away for the Winter. Jane Sterling asks where Don is going and if with anyone special. When he says to Acapulco and that he isn't taking anybody, Jane curtly says it's his own fault but Roger says he pities Don, "...marooned in that sea of bikinis", as Don Smiles. Peggy walks up with Mark and greets Don a merry Christmas as the camera shows a shot of Pete smiling, perhaps awkward at meeting Peggy's beau.
Lane and Cooper talk with the two people from the research company. Cooper comments that "Civil rights is the beginning of a slippery slope." The older, male researcher comments that "If they pass Medicare, they won't stop until they ban personal property.", to which the second, female researcher, Dr. Miller, replies, "Storm our houses and rape our wives.", raising a glass, as they all chuckle.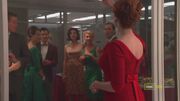 Joan runs in telling everyone to "Man [their] battle stations!", signaling the arrival of Lee Garner Jr. She has all the young, attractive staff members start to play a round of Pass the Orange. Joan offers up gifts, girls and games to Lee, lastly offering to get him some food first before the rest.
Glen and his friend break into the Draper residence. They vandalize the household, starting by throwing food all over the kitchen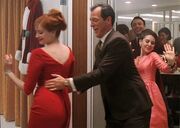 Joan heads a lively conga line back at the SCDP Christmas party. Two lovebirds make out as the conga line passes. Lee asks "Where's Santa?" as Joan asks Megan to get him another drink. Lee suggests Roger don a Santa suit. Pete volunteers to do it but Lee comments it'd take three of Pete to fit into the suit and that everybody knows Santa has white hair anyway. Roger really doesn't want to but Lee insists. As he walks away to get into the suit, Lee says that "He's a hell of a sport."
The Francis' return home with the children and find the house vandalized.
At the party, Jane asks Lane where his wife is and we find out that she and Lane's son have returned to London and that Lane plans to join them soon enough. Lee sympathizes and says his wife's in Florida, saying that he guesses that they'll "...suffer through, eh Jeeves?"
Roger walks in with a merry "Ho! Ho! Ho!" as everyone laughs and claps in delight. He hands out presents of Lucky Strike to everyone. Lee comments that Roger's holding a big bag of presents and to be careful not to "...have a third heart attack" as he pulls Jane close and says "Right, honey?". Saying he has a special present for "a boy who's been naughty", Roger hands Lee a gift, a Polaroid (a subtle slap to Kodak, Polaroid's largest competitor, which is a client of McCann-Erickson, the purchasers of the original Sterling-Cooper). Don bids Peggy a farewell with a "Merry Christmas, sweetheart". As he walks away, the female researcher, Dr. Miller, gazes at him.
Sally finds a lanyard on her pillow from Glen as she sees her room is untouched, unlike the rest of the Draper residence. Dr. Miller confronts Don in his office as he's getting ready to leave. She wants to know why Don, "the creative shaman", didn't take her test as he walked out of her presentation. Don's disappointed believing she had come in to flirt and not fight. Dr. Miller was hoping Don would find her work interesting since Don's work is interesting to her. She says that her work is all about finding out what people want versus what's expected of them. Don invites her out to dinner and she declines but says the apology is accepted. Before she leaves, she assures Don that he'll be married again within a year.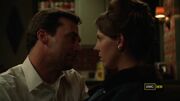 Lee takes photos of party-goers sitting on Roger's lap in his Santa suit. He says it's Harry's turn. Harry awkwardly sits down on Roger's lap, whispering "Sorry, sorry, sorry." as Lee laughs.
Don returns to his apartment and realizes he's forgotten his keys. He knocks on Phoebe's door but no one answers. He has Allison run his keys over to him. After drinking himself into oblivion,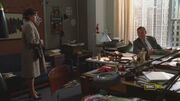 Don Draper
engages in a one-night stand with his secretary,
Allison
, who has been extra attentive to him all week.
Sally looks out her window before going to bed, holding Glen's lanyard he left for her.
Peggy comes into her office to find Freddy at her desk. She asks if he's okay since he wasn't at the party. Peggy apologizes again for calling Freddy old-fashioned and Freddy apologizes for saying she wants to get married. Freddy advises avoiding sex before marriage if she wants Mark to ever respect her but also says that refusing to sleep with him is, for the man, "physically uncomfortable" and is leading him on.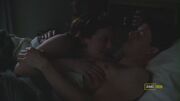 The next morning at the office, Don says it was quite a party and that he really over did it. Allison agrees she overdid it, too. He thanks Allison for bringing his keys and comments that he's taken advantage of her kindness on too many occasions. Allison's smile fades. He hands her the "Christmas bonus" they talked about and tells her Merry Christmas. After exiting Don's office, Allison opens the card with the bonus he gave her, which says "Thanks for all the hard work.", accompanied by $100.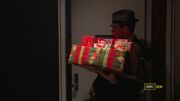 Peggy is shown laying with Mark in bed after having slept with him, leading us to wonder if she's attempting to do exactly the opposite of what Freddy suggested, or if she's decided that Mark is not her "final" partner and therefore his respect is not worth courting.
Don leaves the office for the evening, carrying the presents that Allison picked up for his children, and doesn't look back.
Cast
Guest Starring
Also Guest Starring
Co-Starring
Quotes
Don Draper: "I hate this Christmas."
- Don on Christmas
Lane: "There's been a small adjustment to the scale of our Christmas party."
Joan: "Lower or higher?"
Lane: "Lee Garner Jr, will be joining us. I trust you'll make the appropriate improvements."
Roger: "We need to change its rating from convalescent home to Roman orgy."
- Lee Garner Jr. is accidently invited to the SCDP Christmas party.