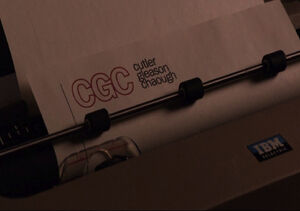 Overview
Cutler Gleason and Chaough was an advertising agency in New York City.
Cutler Gleason and Chaough was tricked by Sterling Cooper Draper Pryce into creating an expensive commercial for a potential Honda deal. ("The Chrysanthemum and the Sword")
CGC merged with SCDP after the events of "For Immediate Release".
Staff
Partners
Staff
Accounts
Ad blocker interference detected!
Wikia is a free-to-use site that makes money from advertising. We have a modified experience for viewers using ad blockers

Wikia is not accessible if you've made further modifications. Remove the custom ad blocker rule(s) and the page will load as expected.