Biography
Emile Calvet is Megan Calvet's father and Marie Calvet's husband. He is a communist intellectual. Of the 2 parents, Emile has the better relationship with Megan, whereas Marie's relationship with Megan was a strained one. Emile accuses his wife of infidelity, and Marie does indeed carry on an affair with Roger Sterling. When this is unearthed, Emile divorces his wife for adultery.
Gallery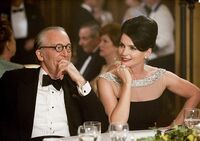 Ad blocker interference detected!
Wikia is a free-to-use site that makes money from advertising. We have a modified experience for viewers using ad blockers

Wikia is not accessible if you've made further modifications. Remove the custom ad blocker rule(s) and the page will load as expected.