Ad blocker interference detected!
Wikia is a free-to-use site that makes money from advertising. We have a modified experience for viewers using ad blockers

Wikia is not accessible if you've made further modifications. Remove the custom ad blocker rule(s) and the page will load as expected.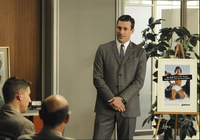 Overview
Jantzen Swimwear was a subsidiary line of the Portland Knitting Company. PKC created the rib-stitched suits in 1915 and later coined the term "swimming suit" (vs. "bathing suit").
Jantzen advertising in the mid 20th century was playful, vibrantly colorful, and a bit racy with it's images of men and women relaxing, playing, and chasing in what would, a few years earlier, have been considered a state of undress.
Account with SCDP
Jantzen Swimwear hired Sterling Cooper Draper Pryce to attempt a new sales strategy in November 1964. After a disastrous week, and a meeting that appeared to be going nowhere, Don Draper told the clients, "You're too scared of the skin your two-piece was designed to show off" and promptly kicked the executives out of his office. ("Public Relations")
Employee
Gallery