Christina Hendricks
is an American actress best known for her starring role in
Mad Men
as
Joan Holloway
.
Hendricks has made her mark in a number of guest television appearances. Her first television break came when she became a regular in the series Beggars and Choosers. Since then, she has starred in the series The Big Time and The Court, opposite Sally Field and Craig Bierko, as well as the legal drama Kevin Hill. She has also had recurring roles in ER and Firefly and guest-starred in episodes of Angel, Miss Match, Tru Calling, Presidio Med, Without a Trace, and Las Vegas...
Read more >
VINTAGE COCKTAILS OF THE 1960s
Mad Men cocktail recipes courtesy of amctv.com
Visit the Cocktails Wiki and browse more vintage and modern favorites.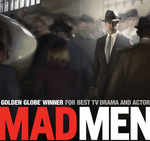 Set in 1960s New York, AMC's TV drama
Mad Men
follows the ad men and women of Madison Avenue as they sell their way to the top. In last season's tumultuous
finale
,
Don Draper
's professional and personal lives collapsed under the weight of repressed secrets. Now he's struggling to stay ahead of the pack while adjusting to life without
Betty
. Welcome to a Mad New World.
What do you think will happen between Don and his new wife Megan in Season 5?
IN LAST WEEK'S POLL we asked:
"Which Mad Men era cocktail do you prefer?"
46% said Old Fashioned
See more polls >