Margaret Hargrove
Talk

0
456pages on
this wiki
Biography
Margaret Hargrove[1] (née Sterling) is Roger Sterling and Mona Sterling's daughter.
Margaret, along with her mother visited her father's office on her way to get a haircut. Later that day in a hotel room, Roger lays on the bed in boxer shorts and stocking feet complaining about how his daughter has no motivation and has only dated two boys, one of which committed suicide. Joan told him that he's too hard on her.[2]
Roger jokes to Don and Betty that once Margaret stopped eating, Mona stopped cooking food.[3]
After Roger has a heart attack, waiting in the hospital, he breaks down. Both Mona and Margaret embrace.[4]
Meanwhile at a swank restaurant, Roger and his wife, Mona, ask their daughter, Margaret, and her fiancé about their wedding plans. Margaret envisions a low-key event, but Mona advocates something bigger.[5] Because of Roger's divorce with her mother, Mona, and subsequent remarriage to Jane Sterling, she tells him she does not want Jane at her wedding. Mona offers a compromise that the 2 can host their own table.[6]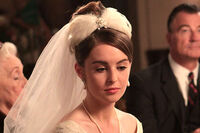 Margaret later demands that Jane not attend the wedding. Mona convinces her that Jane should be there. Because of John Kennedy's assassination, there were many no-shows at Margaret's wedding reception.[7]
References