Biography
Margaret Sterling (Hargrove) is Roger Sterling and Mona Sterling's daughter. ("The Grown-Ups")
Margaret, along with her mother visited her father's office on her way to get a haircut. Later that day in a hotel room, Roger lays on the bed in boxer shorts and stocking feet complaining about how his daughter has no motivation and has only dated two boys, one of which committed suicide. Joan told him that he's too hard on her. ("Babylon")
Roger jokes to Don and Betty that once Margaret stopped eating, Mona stopped cooking food. ("Red in the Face")
After Roger has a heart attack, waiting in the hospital, he breaks down. Both Mona and Margaret embrace. ("Long Weekend")
Meanwhile at a swank restaurant, Roger and his wife, Mona, ask their daughter, Margaret, and her fiancé about their wedding plans. Margaret envisions a low-key event, but Mona advocates something more lavish. ("Three Sundays") Because of Roger's divorce with her mother, Mona, and subsequent remarriage to Jane Siegel, she tells him she does not want Jane at her wedding. Mona offers a compromise that the 2 can host their own table. ("Love Among the Ruins")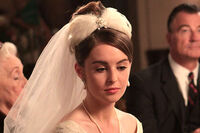 Margaret later demands that Jane not attend the wedding. Mona convinces her that Jane should be there. Because of John Kennedy's assassination, there were many no-shows at Margaret's wedding reception. ("The Grown-Ups")
Her marriage was rocky from the start. Shortly after the marriage she gave birth to a baby boy named Ellery, then soon afterwards her husband Brooks was found guilty of an undisclosed crime and sent to prison. Overcome with these problems, she seeks solace in the counterculture. Indoctrinated into the "free love" lifestyle, she eventually runs away to join a commune. At one point she is visited by her father, who smokes marijuana with her to bond. However, the following morning Roger's personality is as different as night and day, grabbing her and forcing her off the commune, remarking "it is time to leave Shangri-La" as she is a convict wife with a son dependent on her.
Ad blocker interference detected!
Wikia is a free-to-use site that makes money from advertising. We have a modified experience for viewers using ad blockers

Wikia is not accessible if you've made further modifications. Remove the custom ad blocker rule(s) and the page will load as expected.