Biography
Marie Calvet is Megan Calvet's mother and Emile Calvet's wife. She seems rather unhappy with her husband, possibly jealous of the attention he gives their daughter, Megan. Unbeknowst to Emile, when Marie is in the United States visiting Megan, she also has an affair with Roger Sterling. Marie does seem to have some respect for her son-in-law Don, despite the fact that he is an American who does not speak French. With one conversation with Megan, Marie chides Megan to do her God-given duty in being a good wife to Don and stepmother to Don's children, trying to get Megan to forget about acting as "not every little girl can do what she wants; the world cannot support that many ballerinas".
Marie's opinion of Don quickly soured when Megan and Don began the divorce process.
She is married to Roger Sterling by the final episode.
Gallery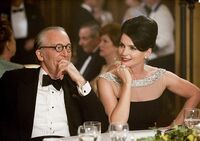 Ad blocker interference detected!
Wikia is a free-to-use site that makes money from advertising. We have a modified experience for viewers using ad blockers

Wikia is not accessible if you've made further modifications. Remove the custom ad blocker rule(s) and the page will load as expected.