Playtex
Client
Is a Is a Real Company/Brand Company/Brand
Status
Unknown
Episode(s)
Featured in:
Maidenform
Overview
Playtex is a well known brand associated with bras and women's undergarments.
Client
Herman Phillips informed Don Draper and the staff that Playtex wanted a new campaign akin to the fantasy-oriented approach of competitor Maidenform. Paul Kinsey maneuvered his way onto the Playtex account after a boys' night out in which he concepted the pitch that all women want to be either Jackie Kennedy or Marilyn Monroe. ("Maidenform")
It is not clear if Playtex became a client with Sterling Cooper Draper Pryce when that agency was formed.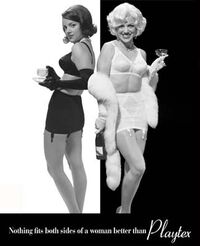 External Links
Ad blocker interference detected!
Wikia is a free-to-use site that makes money from advertising. We have a modified experience for viewers using ad blockers

Wikia is not accessible if you've made further modifications. Remove the custom ad blocker rule(s) and the page will load as expected.