Whether it is Don drinking a Blue Hawaiian on the beach, Roger reaching for his third Gibson Martini, or Betty sipping on her Vodka Gimlet, it is safe to say that cocktails play a dominant role in this popular AMC TV series. Each character has their go-to cocktail. With this in mind, and in honor of the sixth season of Mad Men, the Wikia Staff is hosting a Food Fiction contest for users to design a fictional "Mad Men Cocktail Hour".
We need YOUR help to vote for your favorite drinks on the following Top 10 lists! The Wikia Staff will make the winning drinks and appetizer at our Mad Men party.
Here are the five Top 10 lists. There will be four cocktails (one for every type of liquor) and one appetizer. Most of the cocktail recipes shown also have alternative Virgin Cocktail versions. You can also add a drink or appetizer recipe to the Top 10 lists if you think we left anything out!
Reminder: You can only vote on the Top 10 lists if you are logged in to your Wikia account.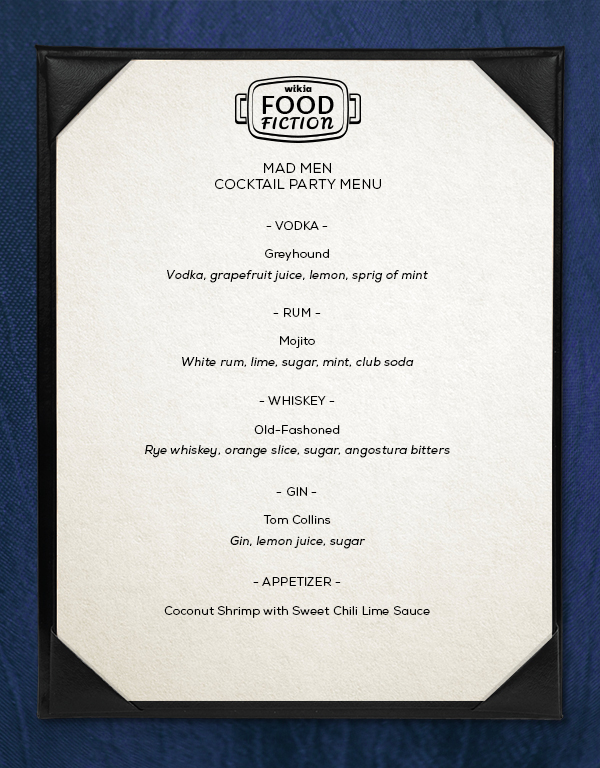 Voting ends on May 22nd.
Check back on May 28, 2013, to see how the Wikia Staff did on creating this cocktail hour!
Ad blocker interference detected!
Wikia is a free-to-use site that makes money from advertising. We have a modified experience for viewers using ad blockers

Wikia is not accessible if you've made further modifications. Remove the custom ad blocker rule(s) and the page will load as expected.