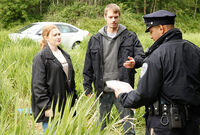 Are you dying without new
Mad Men
? Well, the bad news is, Mad Men STILL isn't officially renewed. Now for the good news.. AMC's new show,
The Killing
, is set to premiere Sunday, April 3 at 9 p.m.!

If you missed my previous blog, The Killing tells the story of a small town pulled apart by the murder of a young girl (not unlike Twin Peaks). It was inspired by the Danish sensation, Forbrydelsen and promises to be a hard-boiled thriller in the vein of crime novelists Henning Mankell and the late Stieg Larssonn's (The Girl with the Dragon Tattoo) work.

It sounds like it could be a good antidote to the Mad Men Blues... Or you can always try Breaking Bad. I just caught up and it is amazing!
Ad blocker interference detected!
Wikia is a free-to-use site that makes money from advertising. We have a modified experience for viewers using ad blockers

Wikia is not accessible if you've made further modifications. Remove the custom ad blocker rule(s) and the page will load as expected.