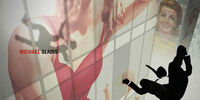 Craving your daily Mad Men fix? Watch this amazing rendition of the Mad Men theme song, RJD2′s "A Beautiful Mine," performed by the gorgeous Allison Williams. Not only is Williams an outstanding singer, she is also a recent Yale graduate! Her famous father, NBC Nightly News anchor Brian Williams, is a huge Maddict!
This version of the song is a mash-up of "A Beautiful Mine" and the classic song, "Nature Boy" by Eden Ahbez. If it sounds familiar it was featured in Baz Luhrman's Moulin Rouge!
Enjoy!
thumb|300px|left thumb|300px|right Source: Best Week Ever TV
Ad blocker interference detected!
Wikia is a free-to-use site that makes money from advertising. We have a modified experience for viewers using ad blockers

Wikia is not accessible if you've made further modifications. Remove the custom ad blocker rule(s) and the page will load as expected.