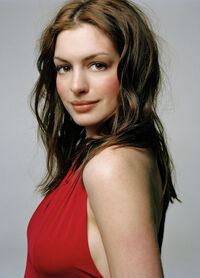 Stars will say some interesting things when they have just learned they have been nominated for a Golden Globe....Anne Hathaway even revealed she is a Maddict! What do you think? Season 5 guest star?!

"When the phone rang this morning, it was my mom telling me I was nominated — I was thrilled! Well, loopy and thrilled," said "Love and Other Drugs" star Anne Hathaway, who's up for Best Performance by an Actress in a Motion Picture - Comedy or Musical. "I've been traveling and jet lag had me wide awake watching 'Mad Men' all night. So I might celebrate by going back to sleep. Or by watching another episode (it's so good! Damn you, Draper ... ) And I'm so happy and proud to share this honor with Jake! Thanks, Hollywood Foreign Press!"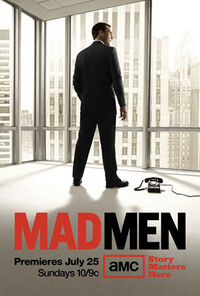 And, just in case you haven't heard, Mad Men received 3 nominations!

"I am thrilled to be nominated for the Golden Globe." Jon Hamm said after learning of his nomination. "Beyond thrilled that my friend and co-star Elisabeth Moss's fine work was nominated, and beyond, beyond thrilled that the show was once again recognized validating the work of our entire cast, writing and production staff and crew. I'm not exactly sure what is that far beyond thrilled, but that's where I am. In fact, if the 'thrill continuum' was, say, the Jersey Turnpike and 'thrilled' was like, the Meadowlands, I think I'd probably be somewhere in Hackensack. Many thanks to the HFPA for their continued support."
Source: MTV and E! Online
Ad blocker interference detected!
Wikia is a free-to-use site that makes money from advertising. We have a modified experience for viewers using ad blockers

Wikia is not accessible if you've made further modifications. Remove the custom ad blocker rule(s) and the page will load as expected.