Comments

0
Are you ready for Betty in spandex?
Ad blocker interference detected!
Wikia is a free-to-use site that makes money from advertising. We have a modified experience for viewers using ad blockers

Wikia is not accessible if you've made further modifications. Remove the custom ad blocker rule(s) and the page will load as expected.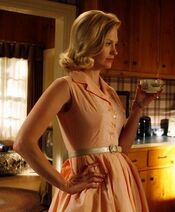 "The costumes are insane,"
January Jones
said of her costumes for "X-Men: First Class". Best known for her role as
Betty Draper
, Jones was excited to take on a totally different character. As Emma Frost, a mutant telepath, Jones gets to look forward to a whole different kind of costume! "It's a lot of very body-conscious stuff. If you look at the comic book, she's barely dressed. She's got quite the bod, which is very intimidating."
Jones, who said she is encouraged to avoid the gym while shooting "Mad Men" to maintain a body typical of the period, flew to London to start shooting "X-Men: First Class" the day after Mad Men wrapped.
"I'm thinking, 'I'm supposed to be doing crunches on the plane,'" she said. "How am I gonna get buff in one day? I'm a petite person, so I didn't want to go into a strict workout and eating regime. I would have disappeared entirely, and she's very busty, very voluptuous, so I didn't want to get rid of any of my curves."
"When I heard that this installment of 'X-Men' was gonna take place in the '60s I was like, 'Oh my God, you must be kidding me!'" Jones said. "But I read the script and familiarized myself with the character of Emma Frost. She's so, so far from Betty and from 'Mad Men,' and it takes place in that time but it doesn't feel like a period movie."
The film, which opens in June, has about a month of shooting left. For Jones, it's a welcome chance to branch out from 1960s housewife to 1960s bad girl. "I'm riding around in helicopters, I'm in a boat one day, I'm in all these fight sequences, we're all over the English countryside," she said. "I feel like I'm a kid playing mutant."