We may be freaking out about the lack of any concrete news about season 5 of Mad Men, but the cast doesn't seem worried about it. The lovely, January Jones visited Regis Philbin and Kelly Ripa this morning and gave a few hints about what "could" happen next season...
Pushing for details, Philbin managed to get Jones' prediction about what's in store for Betty and newly-betrothed Don Draper. "Now we'll both be married to different people," she says. "So we'll have an affair with each other."
It may seem far fetched but Don and Betty did make peace (at least for now) at the end of season 4. Not that Jones wants to go back to playing season 1's fragile housewife!
"In the first couple of seasons, you're more sympathetic and you may even pity Betty," she says. "And now that she's become stronger and more independent and mean -- I guess -- I'm getting more offers to play mean people. I don't want to be sweet and nice."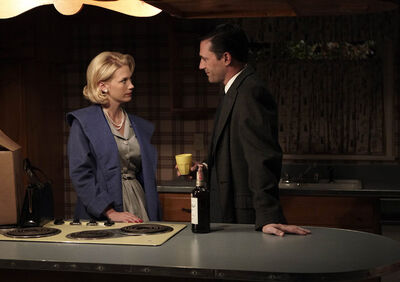 Ad blocker interference detected!
Wikia is a free-to-use site that makes money from advertising. We have a modified experience for viewers using ad blockers

Wikia is not accessible if you've made further modifications. Remove the custom ad blocker rule(s) and the page will load as expected.