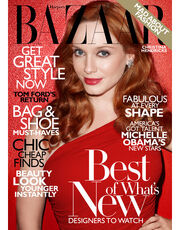 The sexy and dangerously curvy
Christina Hendricks
, known to
Mad Men
fans as
Joan Holloway
, graces the cover of Harper's Bazaar this month. Check out the amazing photos below!
In her recent interview she discusses how not only men like her but women as well. "Women hit on me," she chuckles. "My husband thinks it's so odd that so many women hit on me." Gay men too. "They say to me, 'Well, I'm not straight, but if I was…' I think it's so flattering." Its not all that surprising considering the lack of "real women" in Hollywood. With rail thin actresses like Angelina Jolie, Gwyneth Paltrow, and countless others it is a breathe of fresh air to see a beautiful, curvy woman walk down a red carpet! The most amazing thing is that Hendricks doesn't feel pressured to "slim down" like so many other actresses. Check out the rest of the interview at Harper's Bazaar!
Ad blocker interference detected!
Wikia is a free-to-use site that makes money from advertising. We have a modified experience for viewers using ad blockers

Wikia is not accessible if you've made further modifications. Remove the custom ad blocker rule(s) and the page will load as expected.