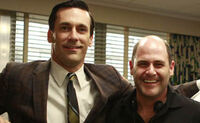 Were you baffled by Don's rash decission last night? Annoyed Betty fired Carla? Angry that Faye got her heart stomped on? Tired of the ladies of Mad Men getting the short end of the stick? See what Matthew Weiner, the mastermind behind Mad Men, had to say about the season finale and what you can expect next season!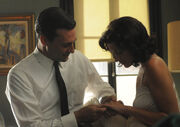 When asked if Don will end up with a professional equal Weiner says,"I don't know who Don will end up with in the end. He's ended up with Megan. Men back then married their secretaries. All the time. That's what Roger said, 'That's how it's done.'"

"Don can't control the business, but he can control his personal life." -Matthew Weiner on Don's proposal to Megan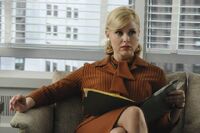 And what about the lovely Faye?
"I think Faye seemed like the next Mrs. Don Draper. She's a professional and he's an equal. I mean, who knows? There's no stories about men in this situation. Maybe The Odd Couple. I realized because guys like this weren't single for that long. To me, the reason this episode is called "Tomorrowland" is because it's really about the choice between, "Do you want to deal with who you are, and live with that?" or "Do you want to think about the person you could be in the future and you're becoming?" And Megan said, "Go to Tomorrowland." Everything's pushing towards that fact. Why don't you be the person you want to be, and not worry about dealing with the person you are?"

Read the rest of the interview HERE!
Ad blocker interference detected!
Wikia is a free-to-use site that makes money from advertising. We have a modified experience for viewers using ad blockers

Wikia is not accessible if you've made further modifications. Remove the custom ad blocker rule(s) and the page will load as expected.