Believe it or not a new survey found that Democrats love challenging, well acted shows like Mad Men while Republicans gravitated towards reality TV.
"The big shows with mass appeal tend to have above-average scores from Democrats and Republicans but with higher concentrations of Republicans," says John Fetto, senior marketing manager at Experian Simmons. "Looking at the Democrats side, I don't mean to make light of it, but they seem to like shows about damaged people. Those are the kind of shows Republicans just stay away from."
According to months of data from leading media-research company Experian Simmons, viewers who vote Republican and identify themselves as conservative are more likely than Democrats to love the biggest hits on TV. Of the top 10 broadcast shows on TV in the spring, nine were ranked more favorably by viewers who identify themselves as Republican.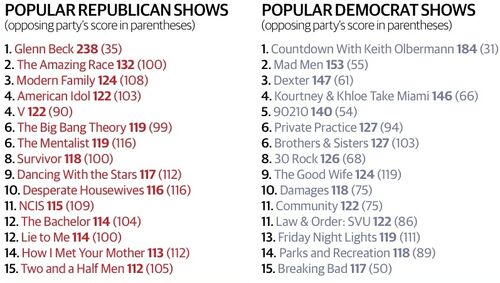 Ad blocker interference detected!
Wikia is a free-to-use site that makes money from advertising. We have a modified experience for viewers using ad blockers

Wikia is not accessible if you've made further modifications. Remove the custom ad blocker rule(s) and the page will load as expected.