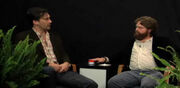 I was digging around the interwebs today and found this amazing interview of Jon Hamm by the equally amazing Zach Galifianakis and I thought I'd share it with you all! Now for those of you who have not seen "Between Two Ferns" or "The Hangover" and are living under a rock, you are in for a real treat. So in honor of the season finale's speedy approach, here it is...Enjoy!
Babyjabba
21:40, October 13, 2010 (UTC)
Ad blocker interference detected!
Wikia is a free-to-use site that makes money from advertising. We have a modified experience for viewers using ad blockers

Wikia is not accessible if you've made further modifications. Remove the custom ad blocker rule(s) and the page will load as expected.