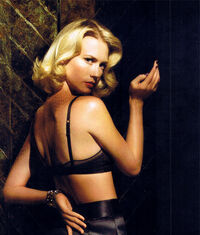 January Jones
may be able to relax but, with our favorite show on the line, its hard for maddicts to breathe!

Jones told EW at the premiere of her new film, Unknown, that "people should relax" about the ongoing negotiations between Lionsgate and AMC over the future of Mad Men.

"I don't have any updates as of now. I still have not heard a date we need to be back to the set. But it will come back," said the actress. "We just don't know when. But we usually shoot in spring and summer and it is only February so people should relax. I think it will all get worked out because no one wants to see the show end yet, not the studios or the network or the creator or the actors. I think they just like the drama. They like the build up. It's like Brett Favre. It was always will he or won't he retire or play again, and that's how all this Mad Men talk is starting to feel."
Ad blocker interference detected!
Wikia is a free-to-use site that makes money from advertising. We have a modified experience for viewers using ad blockers

Wikia is not accessible if you've made further modifications. Remove the custom ad blocker rule(s) and the page will load as expected.