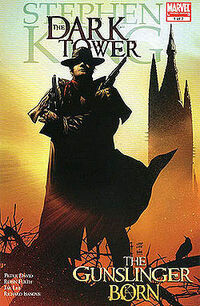 In a world filled with action stars, our favorite Ad executive is fighting for the chance to play the lead role of The Gunslinger Roland of Gilead in the big screen adaptation of Stephen King's Dark Tower Series!
Jon Hamm
, as well as big action stars, Viggo Mortensen, Daniel Craig, and Hugh Jackman are all vying for the coveted role! It looks like Universal is producing both a film trilogy and a TV Series based on the science fiction series. And Ron Howard is set to direct the first film!
"Sure, those are some names and on The Dark Tower fansites they're all about Viggo," Howard confirmed.
Ron admits there is pressure in bringing King's The Dark Tower series to the screen. "Filmically, there are tones in this that I have never used before, tones of fantasy menace and elements of horror and real fear."
"And there's the burden, on the characters, of this journey that is really palpable. That's what we need to get on the screen. I think there's something about [the Frank Darabont films] Green Mile or a Shawshank Redemption, the complexity and the ballast of them, those are two [of the Stephen King adaptations] where you do get the horror and suspense that's there on the page.
"We're charging ourselves with the responsibility of getting a real understanding of the material and utilising many of the best aspects of the books and graphic novels."
Ad blocker interference detected!
Wikia is a free-to-use site that makes money from advertising. We have a modified experience for viewers using ad blockers

Wikia is not accessible if you've made further modifications. Remove the custom ad blocker rule(s) and the page will load as expected.