Ad blocker interference detected!
Wikia is a free-to-use site that makes money from advertising. We have a modified experience for viewers using ad blockers

Wikia is not accessible if you've made further modifications. Remove the custom ad blocker rule(s) and the page will load as expected.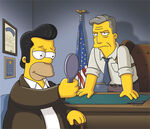 Hamm has done the Bartman! On Sunday night's episode of the Simpsons, Springfield welcomed yet another celebrity guest voice in comedy-loving
Mad Men
star
Jon Hamm
. The episode focuses around Fat Tony, head of Springfield's infamous mafia, who Homer Simpson is forced to follow undercover by an FBI agent (Jon Hamm) trying to take down Tony from the inside. Did you see it? Did you do the Bartman too?
thumb|300px|left thumb|300px|right