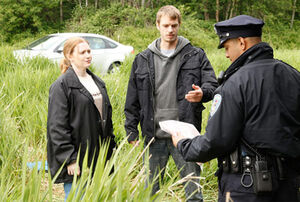 Down in the dumps with out
Mad Men
? Don't worry, AMC has a new show that is sure to knock your socks off! Plus, its hanging out in Mad Men's time slot so you wont forget when its on!
Currently being filmed in Vancouver, The Killing has the potential to be one of the most talked-about and obsessively followed new television dramas of the 2011 season. Inspired by the Danish sensation, Forbrydelsen, The Killing is a thriller about the murder of a teenage girl (sounds a little like Twin Peaks to me) and its effect upon the community. Forbrydelsen, by Scandinavian writer Soren Sveistrup is a hard-boiled thriller in the vign of crime novelists Henning Mankell and the late Stieg Larssonn's (The Girl with the Dragon Tattoo) work.
---
400px
---
The new version is written by Toronoto-born Veena Sud and is being filmed in virtual secrecy. Set to debut on April 3 of this year, The Killing revolves around three separate but distinctly personal stories: a young girl's murder, as seen through the eyes of her grieving family; the prime suspect, a city councilor mulling over a campaign for mayor; and the world-weary, female homicide detective who catches the case. The killer's identity won't be revealed until the season's end, if then.
"Each episode will relate a single day in the life of the investigation, Sud revealed, "and the life of this family, and the life of a political campaign."
"The most important thing to me is not pornographize murder," Sud said. "I want to show the real cost ... when a child is lost. What you see on the screen, in the clips that are already out there, is incredibly graphic, and heartbreaking.
"But we're not spending time looking at a dead child's body and just analyzing that. We're spending time with all the people who have lost her, the impact of this loss on her mother, on her siblings, on her father.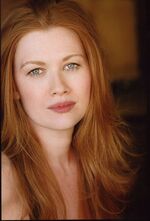 The Killing will feature Mireille Enos, of Big Love, as Sarah Linden, the detective who takes a personal interest in the murder. And former Rocketeer, Bill Campbell, will play the ambitious and morally upright city councilor, who also happens to be the prime suspect in the killing.
Sud says she's still pinching herself that The Killing landed at AMC, "a network that's absolutely dedicated to slow-burn storytelling -- slow-burn in the sense that every moment doesn't have to be prettified or easy to digest. (From) character to everything that every writer dreams of, I've been given the ability and opportunity to really, really tell this story in a way that's authentic and true."
Ad blocker interference detected!
Wikia is a free-to-use site that makes money from advertising. We have a modified experience for viewers using ad blockers

Wikia is not accessible if you've made further modifications. Remove the custom ad blocker rule(s) and the page will load as expected.