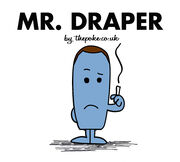 Need something to do since the finale of Mad Men? Tomorrow you can pick up your own copy of a brand new series of adventures Mad Men Mr. Men! See your favorite Mad Men characters through the eyes of Mr. Men, the series of children's book!
"People are saying to us all the time, 'Why do this?" says AMC executive Tony Tolberg. "Well, I'll tell you why. Harry Potter showed the world that books could bridge the gap between children and adults. Mad Men Mr. Men stretches that gap even wider and builds a larger bridge – a bridge over the river Why."
"Pre-orders for 'Mr. Sterling Gets Angry' have exceeded all expectations, so we can't wait to see what happens with 'Mr. Draper Loses His Trousers' or 'Little Miss Peggy Gets Another Bump In Her Tummy.'"
Ad blocker interference detected!
Wikia is a free-to-use site that makes money from advertising. We have a modified experience for viewers using ad blockers

Wikia is not accessible if you've made further modifications. Remove the custom ad blocker rule(s) and the page will load as expected.