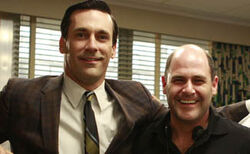 Matthew Weiner
, creator of
Mad Men
, revealed that he is on the edge of his seat, waiting to write the
fifth season
of Mad Men!
He told The Sun: "I'm excited to see the repercussions of Don (Jon Hamm) coming to terms with who he is and to see what happens with Betty, Henry and Peggy." If you don't remember, Weiner is referring to Don's proposal to Megan in the season 4 finale.
"They're my people, and I'm curious about what will happen to them."
Ad blocker interference detected!
Wikia is a free-to-use site that makes money from advertising. We have a modified experience for viewers using ad blockers

Wikia is not accessible if you've made further modifications. Remove the custom ad blocker rule(s) and the page will load as expected.