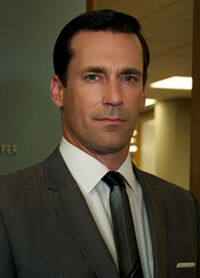 As many of us expected, the
fifth season
of
Mad Men
has been delayed. But how long you ask? Late summer? Early fall? Nope! You can expect to see more
Don Draper
in early 2012!
"AMC has officially authorized production of Season 5 of Mad Men, triggering our option with Lionsgate," the cable network says in a statement released Tuesday morning. "While we are getting a later start than in years past due to ongoing, key non-cast negotiations, Mad Men will be back for a fifth season in early 2012."
Weiner's prospective payday would make him the highest-paid showrunner in the business, leading at least one peer to question his stance on the seemingly sensible sticking points. "You can't ask a network for 10 million [dollars], then bitch when they want to expand their ad revenue source," Sons of Anarchy boss Kurt Sutter opined on Twitter. "Whore or saint, pick one."
Can't wait until 2012? Pick up your copy of Season 4 on DVD or BluRay today!
Ad blocker interference detected!
Wikia is a free-to-use site that makes money from advertising. We have a modified experience for viewers using ad blockers

Wikia is not accessible if you've made further modifications. Remove the custom ad blocker rule(s) and the page will load as expected.