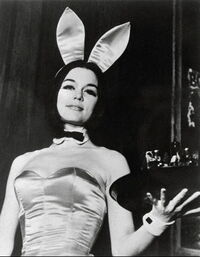 NBC may be trying to steal a little mojo from
Mad Men
! Apparently they are putting together a new show set in the 1960s at a Playboy club! The show, Playboy, "would center on a group of women working as Playboy bunnies in the New York Club," which would serve as a lens for the "changing mores" of the time. Chad Hodge (Runaway, Tru Calling) is the executive producer.
Would you watch it? Or are you only interested in the gentlemen's clubs on Mad Men?
Ad blocker interference detected!
Wikia is a free-to-use site that makes money from advertising. We have a modified experience for viewers using ad blockers

Wikia is not accessible if you've made further modifications. Remove the custom ad blocker rule(s) and the page will load as expected.