Comment

1
Sally Draper actress can't watch Mad Men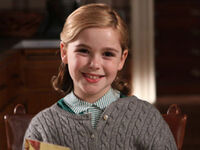 The 11-year-old actress that plays
Sally Draper
isn't allowed to watch
Mad Men
!
Kiernan Shipka
says that her parents wont let her. "I'm not allowed to watch 'Mad Men,' so I just more focus on the Sally parts," she revealled. Its always good to hear about good parenting especially in the entertainment industry!
Asked if she was aware of buzz about a supporting actress Emmy nomination for her Sally role, Kiernan responded like a real pro: "It's an honor just to be thought about."
Shipka is currently working on a new show, "Smooch", on the Hallmark channel which is an updated version of the Frog Prince fairytale. It centers on Kiernan, a little girl who brings home a handsome English prince to her widowed mother. In her spare time the adorable and talented actress enjoys watching Robert Pattinson in The Twilight Saga and listening to Justin Bieber.