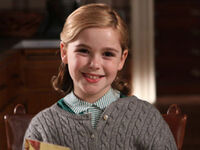 The 11-year-old actress that plays
Sally Draper
isn't allowed to watch
Mad Men
!
Kiernan Shipka
says that her parents wont let her. "I'm not allowed to watch 'Mad Men,' so I just more focus on the Sally parts," she revealled. Its always good to hear about good parenting especially in the entertainment industry!
Asked if she was aware of buzz about a supporting actress Emmy nomination for her Sally role, Kiernan responded like a real pro: "It's an honor just to be thought about."
Shipka is currently working on a new show, "Smooch", on the Hallmark channel which is an updated version of the Frog Prince fairytale. It centers on Kiernan, a little girl who brings home a handsome English prince to her widowed mother. In her spare time the adorable and talented actress enjoys watching Robert Pattinson in The Twilight Saga and listening to Justin Bieber.
Ad blocker interference detected!
Wikia is a free-to-use site that makes money from advertising. We have a modified experience for viewers using ad blockers

Wikia is not accessible if you've made further modifications. Remove the custom ad blocker rule(s) and the page will load as expected.