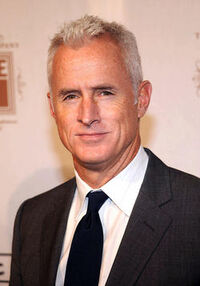 With no end to the
Mad Men
negotiations in sight, show star,
John Slattery
is looking for a new gig.
"I'm looking for a job," Slattery told The Hollywood Reporter. "I've been writing a little something -- I wrote a screenplay."
But The Hollywood Reporter wasn't able to get any details out of Slattery. "I can't tell you what it's about. It's a secret. I have the free will not to tell you," he said, referring to his new film's tagline, "fate vs. free will."
But it does sound like he might do more than just write it, he is in discussions to direct the film version as well. "I went to a concert somewhere and I ended up sitting next to the guy who controls the rights to the movie. And I said to him, 'You're not the guy who controls...' and he said, 'Yeah, why, you want it? I'll give it to you.'"
Ad blocker interference detected!
Wikia is a free-to-use site that makes money from advertising. We have a modified experience for viewers using ad blockers

Wikia is not accessible if you've made further modifications. Remove the custom ad blocker rule(s) and the page will load as expected.