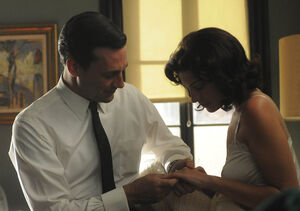 Warning: Spoilers Ahead. Stop reading if you haven't watched the finale!
For those who caught last night's season finale of Mad Men, I'm sure you are asking yourselves, "Who is Megan?!" It seems Mr. Draper has found himself a new lady and dropped poor Faye by the wayside. Not only has he found a new love interest but he jumped in head first and proposed! But is this really that surprising?
Don always seems to be focused on a "new beginning;" he starts a new life when he assumes Don Draper's identity during the Korean War and he starts over again at the new firm. He always tries to change himself by changing his name, his surroundings, and his women. But when he realizes his new life isn't all peaches and cream he drops it and leaves a path of human wreckage in his wake. His old miss thang, Faye, points it out, saying that she hopes his fiancée knows he only likes "the beginnings of things."
Do you think Megan is a good match for the picky ad executive? Do you think they will last?
Ad blocker interference detected!
Wikia is a free-to-use site that makes money from advertising. We have a modified experience for viewers using ad blockers

Wikia is not accessible if you've made further modifications. Remove the custom ad blocker rule(s) and the page will load as expected.