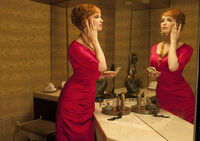 Most
Mad Men
fans and critics believe that the critically acclaimed show will return for a fifth season but AMC has yet to sign the paperwork or make any announcements! But, AMC president, Joel Stillerman did seem pretty sure saying, "'Mad Men' is definitely coming back for season 5, but don't ask me when, because we're not sure yet."
It seems a little odd that they haven't signed any contracts and let the cast's options expire... You would think AMC would do anything to hang onto such a great series. What do you think? Are they just being lazy or do you think there is a chance Mad Men might be over?
Ad blocker interference detected!
Wikia is a free-to-use site that makes money from advertising. We have a modified experience for viewers using ad blockers

Wikia is not accessible if you've made further modifications. Remove the custom ad blocker rule(s) and the page will load as expected.