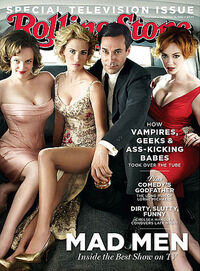 Mad Men
's future is becoming more and more gloomy. Not only were the cast's contracts not renewed but Mad Men creator,
Matthew Weiner
's contract expired yesterday! Plus, Mad Men was snubbed by the Golden Globes last night!
"For some reason, AMC has just never gotten it," a source told Showbiz 411. "They certainly never thought their shows would be hits."
Apparently, Weiner has not heard from AMC since "Mad Men" ended its fourth season in November?! What is AMC thinking? Are they going to dump Weiner and try to do the show without him? Or will Mad Men be making a break for HBO, who originally passed on the concept? What do you think maddicts? Is there still hope for Mad Men?
Ad blocker interference detected!
Wikia is a free-to-use site that makes money from advertising. We have a modified experience for viewers using ad blockers

Wikia is not accessible if you've made further modifications. Remove the custom ad blocker rule(s) and the page will load as expected.