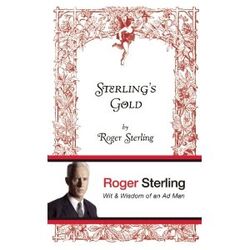 Mad Men
fan site, Basket of Kisses is giving away 2 copies of
Sterling's Gold
! If you missed all the
hubbub
a while back, Grove Atlantic is selling "Sterling's Gold: Wit and Wisdom of an Ad Man," the fictional novel that
Roger Sterling
was writing last season that has now become reality! The contest ends January 31 of next year.
To enter go to Basket of Kisses and leave a comment with your favorite Rogerism!
Ad blocker interference detected!
Wikia is a free-to-use site that makes money from advertising. We have a modified experience for viewers using ad blockers

Wikia is not accessible if you've made further modifications. Remove the custom ad blocker rule(s) and the page will load as expected.