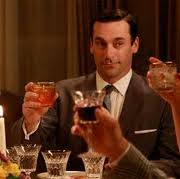 The price of being like a celebrity may be going up.
That's because the price of a main ingredient in Don Draper's favored cocktail the Old Fashioned may be going up.
Bloomberg News has just reported that the U.K. government is seeking to abolish the tax relief on Angostura Bitters.
For those unfamiliar with the Prohibited era drink, the ingredients in the Old Fashioned are:
1 shot rye
half-slice of orange
1 tsp sugar (or simple syrup)
Angostura bitters
Angostura Bitters is a blend of herbs and spices made by Trinidad-based Angostura Ltd. that to date has been exempt from U.K. import duty. If the measure passes it could add as much as 2.28 pounds ($3.74) to the price of a single bottle. Yikes!
Is drinking like Don Draper going to still be worth it?
If you have a good alternative ingredient let us know!
References
Source: Bloomberg.com
Ad blocker interference detected!
Wikia is a free-to-use site that makes money from advertising. We have a modified experience for viewers using ad blockers

Wikia is not accessible if you've made further modifications. Remove the custom ad blocker rule(s) and the page will load as expected.