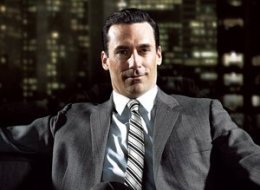 We recently brought you behind the scenes photos of Jon Hamm being directed from Season 1 of Mad Men. And now the man playing TV's most lovable scoundrel Don Draper is slated to get behind the camera as well.
TV Line has just reported that the Golden Globe winner will direct the premier of the highly anticipated Season 5 of Mad Men.
In case you were wondering, it's not the first time an actor from Mad Men has taken up this challenge. Fellow actor John Slattery directed an episode from Season 4. This will be Jon's directorial debut and he's clearly taking his new role very seriously. He told TV Line that "it's a very exciting challenge that I'm looking forward to with a mixture of utter fear and excitement."
Jon has been branching out from acting recently, having just co-produced his first movie, "Friends With Kids," written and directed by his longtime partner, Jennifer Westfeldt.
And don't worry, just as soon as we can we'll bring you the behind-the-scenes photos of Jon Hamm directing Don Draper...
References
Ad blocker interference detected!
Wikia is a free-to-use site that makes money from advertising. We have a modified experience for viewers using ad blockers

Wikia is not accessible if you've made further modifications. Remove the custom ad blocker rule(s) and the page will load as expected.