Don't Look In The Mirror: Reflections on MAD MEN Season 6
is a collection of episode analyses by Wikia contributor John Doherty. Doherty is a caricaturist and illustrator, and MAD MEN fan.  2013 he collected his recaps and analyses of Season 5 and added sketches of characters from the show with each chapter and then published this work of criticism on Amazon. This is the followup work on Season 6. Radio talk show host Jordan Rich says "John Doherty really digs into what it's all about. I'm just amazed- the way he explains it is fabulous".
on Amazon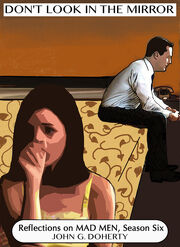 Ad blocker interference detected!
Wikia is a free-to-use site that makes money from advertising. We have a modified experience for viewers using ad blockers

Wikia is not accessible if you've made further modifications. Remove the custom ad blocker rule(s) and the page will load as expected.