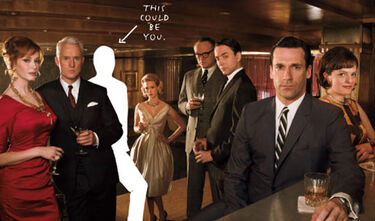 Got mad acting skills? You could win a walk-on role in Season 5 of Mad Men in Banana Republic's Mad Men Casting Call Contest !
To enter, visit any Banana Republic location and pick up a Mad About Style Guide to get your casting call entry code. Then straighten your tie or freshen your lipstick and submit a photo of yourself in your best vintage Mad Men style. Don't forget to spread the word and ask your friends to vote for you. The contest runs through 11:59PM | 10:59C on Monday, Sep. 6.
Ad blocker interference detected!
Wikia is a free-to-use site that makes money from advertising. We have a modified experience for viewers using ad blockers

Wikia is not accessible if you've made further modifications. Remove the custom ad blocker rule(s) and the page will load as expected.