Does it seem like ages ago that Mad Men was last on TV?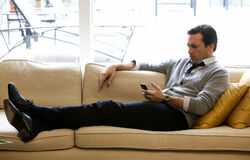 Due to contract negotiations and general stalling, Mad Men has been off the air for well over a year!
But there's finally some good news because Mad Men will be returning for Season 5 on March 25! Jon Hamm himself announced the news today...fitting considering he will be directing the first episode himself.
It's about time, don't you think? Are you excited to have Mad Men back on the air?
Ad blocker interference detected!
Wikia is a free-to-use site that makes money from advertising. We have a modified experience for viewers using ad blockers

Wikia is not accessible if you've made further modifications. Remove the custom ad blocker rule(s) and the page will load as expected.