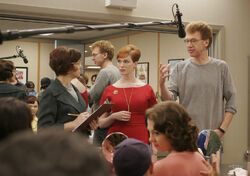 At the first ever Critics Choice Television Awards, Mad Men scores two of the most prestigious awards for Best Drama Series, Best Actor in a Drama Series (Jon Hamm), and a third tied award for Best Supporting Actress in a Drama Series for Christina Hendricks! Although we Maddicks won't get to see the crew until 2012, we can rest assured that the amazing series is still getting the attention it deserves!
Check out the full list of winners at Entertainment Wikia Hub to see what other amazing shows won!
Ad blocker interference detected!
Wikia is a free-to-use site that makes money from advertising. We have a modified experience for viewers using ad blockers

Wikia is not accessible if you've made further modifications. Remove the custom ad blocker rule(s) and the page will load as expected.