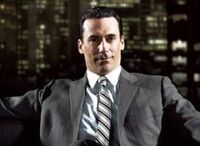 For Don Draper enthusiasts, actor John Hamm will also be directing Mad Men's Season 5 premiere. John Hamm says, "Directing is fun!" regarding his entry into the field of directing, but says he doesn't remember exactly what he and Elisabeth Moss were discussing in the photo.
Mad Men will return next year. The series has received the Outstanding Drama award at the TV critics press club awards on Saturday. John Hamm earned individual achievement in a drama series.
It's going to be a wait, but hopefully this exclusive photograph will tide us over, as we anticipate the new season of Mad Men.
Source: Insidetv.ew.com
Ad blocker interference detected!
Wikia is a free-to-use site that makes money from advertising. We have a modified experience for viewers using ad blockers

Wikia is not accessible if you've made further modifications. Remove the custom ad blocker rule(s) and the page will load as expected.