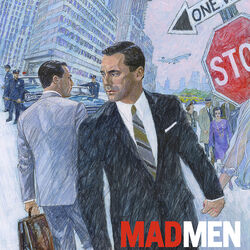 Season 6
is so close!! I've been thinking about what might be in store for us, and I'm going out on a limb (more so on some than others) with a few predictions of my own:
Joan will be objectified less - now that she's a partner. (hoping I'm wrong here)
Roger will do more drugs. (after all, this is the dawning of the age of Aquarius...)
Peggy will flourish in Manhattan. She really has built a great life for herself, and now that Don isn't holding her back, I think her character is going to experience a lot of growth this season. We will almost certainly see a whole new look emerge from her as she adapts a more "Manhattan" wardrobe.
Megan will leave Don, whether or not he cheats on her (he will, see above). Her acting career will take off, and so will she. (if she leaves him and he *doesn't* cheat first, I'll eat my keyboard.) I think she'll already be looking for a way out, and might even have a P.I. tailing him to catch him in the act. The perfect guilt-free, sympathy garnering escape.
Don + Peggy = ? If you know anything about the character Don is based on, you'll know what I mean, but basically - the guy ends up with a former secretary of his who starts her own female-product-catering ad agency.... The new and improved "Manhattan Peggy" might just be this missing puzzle piece.

What do you expect to see? Hope to see? Comment below, or write a predictions blog of your own!


---
---
Ad blocker interference detected!
Wikia is a free-to-use site that makes money from advertising. We have a modified experience for viewers using ad blockers

Wikia is not accessible if you've made further modifications. Remove the custom ad blocker rule(s) and the page will load as expected.